Introducing the Home of North East Mall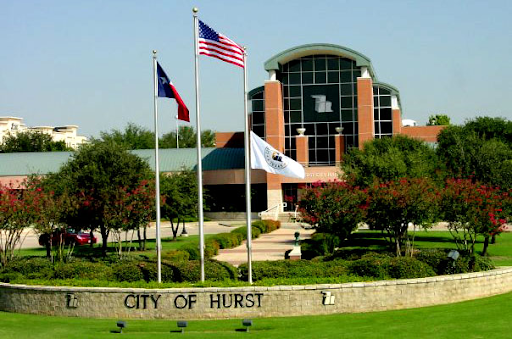 A larger DFW suburb, Hurst is a community home to just over 40,000 people. It's surrounded by a number of notable communities including Fort Worth, Richland Hills, and Colleyville. Notable Hurst landmarks include the Tarrant County Northeast Courthouse, the North East Mall, the Artisan Community Theater, and its 18-screened cinema complex. Though not the most important historically, D Magazine rated this medium-sized town as one of the best suburbs in Dallas. This is due to its ability to embody the best parts of suburbia including numerous cafes and family-owned businesses.
Hurst shares one major trait with neighboring Haltom City and Fort Worth. It gets hot as a hot tin roof in summer time. In the month of August, average highs hover around 95 degrees. For this reason, a functioning AC unit is vital to comfortable living, whether at home or at work. As a resident of DFW, you have access to Williamson's —an HVAC contracting company with 29 years of experience serving the Hurst area.
Trust Williamson's with your ac in Hurst.
Professional AC Repair and Installation in Hurst
People in Texas are known for their brave demeanor and 'don't tread on me' attitude. But even the toughest rancher might quiver in their boots at the sight of a broken air conditioner. Often taken for granted, these complex pieces of HVAC equipment allow us to enjoy the summer months. Going without air conditioning in an area that commonly passes 100 degrees isn't an option. That's where our AC experts come in.
True masters of their trades, one of Williamson's's cooling experts can quickly diagnose any HVAC problem. After doing so, he or she will present you with repair options that fit your needs and budget. Air conditioning needs we can tackle include:
AC Repair
AC Replacement
AC Installation
AC Maintenance
Compressor Repair
Refrigerant Line Repair
Heat Pump Repair
Heat Pump Replacement
Heat Pump Maintenance
If you are nervous about the cost of your new air conditioner or major repair, we invite you to explore our special offers and financing options.
Keep Jack Frost at Bay with Our Hurst Heating Services
Though known for its hot climate, Texas isn't balmy all year round. For a quarter of the year, average temperatures struggle to top 40 degrees. During that time, you'll have to rely on your home's heater for warmth and comfort. Unfortunately, like air conditioners, heating equipment doesn't last forever and can be harmed through chronic disuse or neglect. Our HVAC experts are here to help maximize the lifespan of your furnace or heat pump through consistent maintenance. And should it fail, we'll quickly uncover and fix the problem.
Our Hurst-area heating services include:
Heater Repair
Heater Replacement
New Heater Installation
Furnace Installation
Furnace Repair
Furnace Replacement
Furnace Maintenance
Heater Maintenance
Commercial HVACR Experts Serving in Hurst
A lot of businesses call Hurst home. Some of the largest among them include Ancora Education, Tech Support Now, and Freeman Toyota. Fortunately, our expertise extends not only to these larger enterprises but Mainstreet as well. In continual operation since 1994, our commercial HVAC experts are equipped to handle almost any size refrigeration or ac problem. This and our customer-first mindset make us a great comfort partner for any business in the Hurst area.
As specialists, we understand the importance of uninterrupted operation for you and your building. That's why we work closely with you to minimize downtime. We provide commercial hours designed to meet the needs of any-sized business. So, whether you prefer morning or nighttime work, you can rely on Williamson's AC Contracting to be there. Our commercial offerings are numerous and include:
Commercial Refrigeration
All that stock in your cooler is a sunk cost if you can't get it working. Fortunately, our Hurst refrigeration experts are just a phone call away. Upon arriving, they'll take a look at your freezer or walk-in cooler. From there, diagnosis and a fair price quote will follow. Reach out to us at to schedule commercial refrigeration service in Hurst.
Commercial AC
While they may look similar, commercial air conditioners are typically much larger than residential ones. Maintaining and repairing these units is best left to an expert in commercial air conditioning. This is doubly true in an area like Hurst where triple digits are common. Put our 29 years of commercial AC experience to work for you.
Commercial Heating
Your company's furnace might spend most of the year collecting dust, but it's still vital to both client and employee comfort. Our commercial heating experts are here to ensure every one in Hurst stays as snug as a bug in a rug. Consider signing up for a commercial maintenance plan for hassle-free heating service.
HVAC Finish-Outs
Williamson's partners with contractors to provide comprehensive finishing services in the Hurst area. Whether you want the whole building to rely on one or many units, we can safely handle the installation. To schedule an HVAC finishing quote in Hurst, call Williamson's. We look forward to helping make your building everything you dreamed of.
Rely on Us for HVAC Service in the Hurst Area
Williamson's has been helping Hurst with its residential and commercial HVAC problems for over 29 years. And, we owe our continued success to the patronage of our loyal customers throughout Tarrant County.
By putting customers first, Williamson's has garnered a reputation as a great choice for AC and heating service in the Hurst area. Our ample experience gives us insight into the designs and requirements of almost every HVAC brand. This allows us to quickly diagnose your problem without having to schedule multiple return visits. If there's ever a situation where we fail to meet your standards, we'll take any steps necessary to set things right.
With all that considered, why would you or your business go anywhere else for HVAC service in Hurst?